A father has faced his worst nightmare when a two-metre shark latched on to his 10-year-old son while the pair were snorkelling on holiday.
Jackson Bartlett, who is originally from Sydney, was snorkelling in Coral Bay, near the famous Ningaloo Reef in Western Australia, with his father when a bronze whaler bit his flipper, foot and ankle.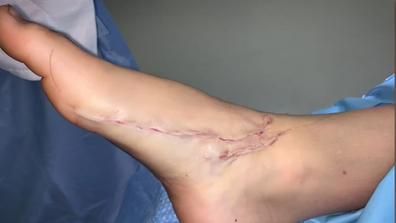 Speaking to Today, Jackson said the shark tried to go for him three times before he yelled out to his dad.
Jackson was rushed to shore, where two doctors happened to be nearby, and was airlifted to Perth Children's Hospital for treatment.
"There was a shark that came behind me and tried to bite me three times," he said.
"I said to dad there was a shark and I showed him my sore and he rushed me to shore and then all the doctors bandaged it up."
Jackson's dad Blake said he didn't know his son was hurt until he looked down and saw a shadow in the water.
"I didn't realise he'd been bitten at first," Blake said.
"I thought he was just pointing the shark out to me so just after it actually happened he said 'shark' and I looked down and I'm like, 'Oh, cool, bronzy. Decent size,' all of a sudden he started swimming towards me and that's when I realised he'd been bitten.
"I rushed him to shore and once we got to shore we were very fortunate we had two doctors on the shore."
Rachel, Jackson's mother, was preparing to take her other two children into the water when a bystander rushed up to tell her Jackson was injured.
"She didn't say anything about a shark bite," Rachel said.
"I came running down and Jackson was quite distressed and say, 'a shark's bitten me,' and obviously gave him the biggest cuddle and helped.
"But at that stage it was bandaged up by the off-duty doctors so I didn't see the extent of the injuries.
"It was very scary and he's been so brave".
Jackson said he'll take the week to recover and can't wait to tell his friends back in Sydney.
"Hopefully I can go back and spend a week there to rest it and I'm going to tell all my friends if I go to school for a day and say that I got bitten by a shark," he said, vowing to get back in the water.
"I'm just going to start from shallow saltwater beaches".